This week's Theme for
TOY HUNT
is Teddy Bear....
This is Bianca's Teddy bear which she received last Christmas.
The bear's name is TJBeary from Playskool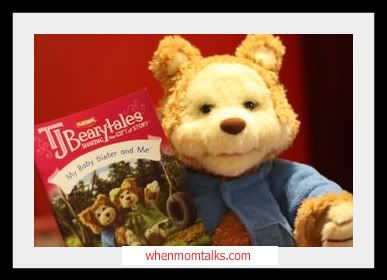 what I like about this,  is ....it reads a story and moves his mouth and hands,, It comes with a book so children can follow what TJ is saying.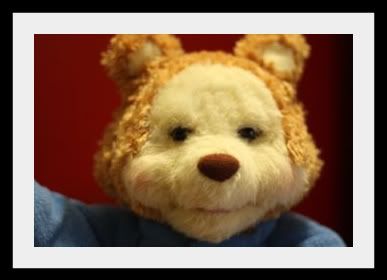 It is battery operated and there is a cartridge holder at the back. play button, music button and activity .. But the other night before Bianca went to bed I gave it to her , and told her that TJ bear will read a story for her,, after awhile she came down and I put her back to bed and she asked me to bring TJ downstairs , she was scared... cant blame her,,,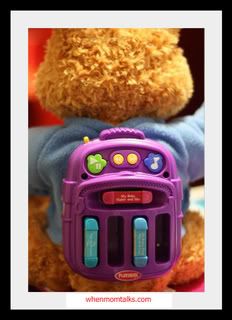 According to Wikipedia The name Teddy Bear comes from the November 1902 American President Theodore Roosevelt's hunting trip to Mississippi, to which he was invited by Mississippi Governor Andrew H. Longino. There were several other hunters competing, and most of them had already shot something. A suite of Roosevelt's attendants, led by Holt Collier,[1] cornered, clubbed, and tied to a willow tree an American Black Bear after a long exhausting chase with hounds. They called Roosevelt to the site and suggested that he should shoot it. He refused to shoot the bear himself, deeming this unsportsmanlike,[2] but instructed that the bear be killed to put it out of its misery, and it became the topic of a political cartoon by Clifford Berryman in The Washington Post on November 16, 1902.[3] While the initial cartoon of an adult black bear lassoed by a white handler and a disgusted Roosevelt had symbolic overtones, later issues of that and other Berryman cartoons made the bear smaller and cuter.[4]
Enjoy everyone and keep on visiting our Toy Hunters